Fire danger level moved to 'extreme' Tuesday while crews practiced fighting wildfires — without the flames
By Holly Dillemuth, Ashland.news
After a briefing with Battalion Chief Kelly Burns and Wildfire Division Chief Chris Chambers, Ashland Fire & Rescue firefighter Todd Stubbs climbed into the backseat of a heavy brush truck Tuesday morning at the vacant, city-owned Hardesty property on Oak Street in Ashland.
As the driver proceeded to the simulation site on the property, a firefighter in the front passenger seat spoke over the radio: "HB 1 – Ready to rock and roll."
Stubbs was one of two shifts of Ashland firefighters who took part in the annual training, simulating a wildfire, but without flames due to the heat and Red Flag warning on Tuesday. Describing the firefighters gear while working in the heat, Stubbs said it's like clothing yourself with a "sleeping bag and wearing that and then putting on ski clothes on underneath it, it's like the warmest clothes you can imagine, because it's designed to keep the heat out," Stubbs said.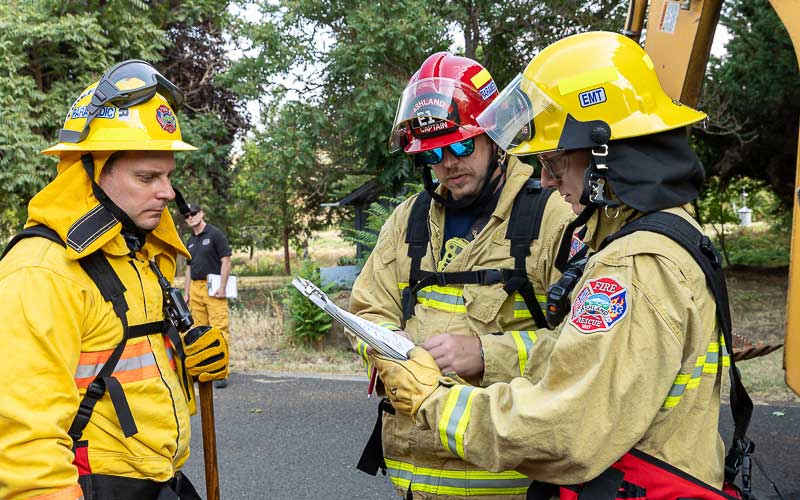 Arriving at the site, Stubbs and his crewmates sprung into action for a simulated grassfire.
Stubbs pulled hose from the truck, placing it over his right shoulder with water bursting forth as he walked toward the fire simulation area.
"This is the first time we've used this property for a training," said Chris Chambers, wildfire division chief for Ashland Fire & Rescue, about the vacant Hardesty property at the north end of Oak Street.
While most wildfire training takes place in April and May, the department's medical call volume has been high and their staffing low this year, so it took until August to hold the training, fire officials said.
"We are a little bit late this year, but better late than never," said Chambers.
"Every year, we make sure that we repeat it … develop that muscle memory," he added.
"We've already executed this twice in the last three weeks on grass fires, so it's not like it's anything new to anybody here. This is just review and practice."
"And we're still coming to the worst of fire season," Chambers added. "We just went to extreme fire danger today."
Chambers said the months of August and September, with dry conditions and high heat, have potential for serious fires to occur.
The extreme fire designation means the public shouldn't use gas-powered machinery or welding equipment outside in just areas of dry vegetation.
"This isn't going to stop anyone from mowing their green lawn or doing routine maintenance around their house," Chambers said. "At the same time, we don't want anything that's going to start a fire."
Chambers said Ashland Fire & Rescue plans to propose moving up their weed abatement program from mid-June to June 1 to get ahead of the fire season.
"That should give people plenty of time to get grass and weeds cut down," he said. "We are pursuing … about 50 homeowners right now who haven't completed it. We can write special permits to get that critical weed abatement done where we require hoses of water and fire tools."
Chambers stressed if there's work around dry vegetation to be done that isn't critical, save it for cooler months.
"We do a lot of outreach every year and we start that outreach for people to get ready back in April," Chambers said. "So there's no lack of information out there about what people should do and when they should do it. But, unfortunately, being humans, we all procrastinate."
As Chambers mentioned, Ashland Fire & Rescue is seeing higher call volumes every year, and this year is preparing to set another record.
"We're on pace this year to crack 5,000 calls total," Chambers said.
"Not for a small department like ours," Burns, the battalion chief, chimed in.
Burns said the call volumes are different every year, but steadily increasing every year, too.
In 2010-2011, call volumes actually dropped, he said, though nobody could say why.
Burns emphasized the department needs more staff and identified an industry issue that's felt locally.
"We need more firefighters and medics," Burns said. "We're going to open it up to EMT Basics and paramedics because we're not getting people signing up for these jobs anymore, because of this interesting time we're in."
Burns said a lot of firefighters who have been on staff for years are commenting on the intensity of the job amid the high call volume and small staff, and newcomers are often saying the same thing.
The department has also been down two engines in the last two weeks while they undergo repairs.
Chambers stressed that, through all the obstacles, the department offers its services to those who need it.
"We're here, we provide this service. People are going to risk their safety in order to save, certainly to save lives," Chambers said. "There's significant smoke exposure that happens on these fires that is a serious health concern for firefighters and that's the job hazards. On the other side of that social contract is what citizens have to do to help us be successful.
"They have to take care of their properties, make sure that all the weeds are cut down," Chambers said, noting that debris should be removed from gutters as well.
No threat for Ashland residents from McKinney Fire
Chambers said Tuesday there's been a lot of interest from the community in terms of safety for Ashland residents due to the McKinney Fire in Klamath National Forest west of Yreka.
Asked what the potential is for the McKinney Fire to reach Ashland, Chambers said, "It is not coming this way."
Chambers said only one fire outside of Ashland in previous years has made a "significant push towards" Ashland from outside the area and that was the Klamathon Fire in 2018.
"It fizzled out by the time it hit the Siskiyous and started toward the (Cascade-Siskiyou National) monument," Chambers said. "There was talk about evacuations in Ashland, but this one has pushed mainly from the Klamath River to the south."
Siskiyou County search teams located two more people who died in the McKinney Fire on Monday, the Siskiyou County Sheriff's Office announced Tuesday, bringing total fatalities to four people. The individuals were found in separate residences along Highway 96.
Siskiyou County Sheriff's Office asks that those who wish to report a loved one or someone they know well missing from the area of the fire to call 530-842-8741.
Tuesday evening the McKinney Fire was reported to have covered 56,459 acres, up just slightly from 55,493 Monday afternoon. The fire started Friday afternoon, and quickly grew to more than 30,000 acres Saturday. Rain was reported falling on the area Tuesday. Cause of the fire is under investigation, but authorities have ruled out lightning as a cause.
Ashland residents can sign up for emergency alerts at ashland.or.us/Page.asp?NavID=17635 or by texting 97520 to 888777.
Reach Ashland.news reporter Holly Dillemuth at hollyd@ashland.news.