Teen met Taylor Swift at 13, starred in OSF play in 2019; now fundraising to buy wheeled chair-accessible van
By Holly Dillemuth, Ashland.news
Doctors told Jane Hogan when her son was born that he wouldn't be able to communicate with her or walk on his own, let alone dance.
Luke was diagnosed with cerebral palsy, a neurological disorder, at 6 months. The neurological disorder affects body movement and muscle tone and, coupled with dysarthria, a speech disability, made it appear that life would be an uphill battle for Luke. But Luke's abilities have far surpassed any of his doctors expectations for his life. Though he uses assistive technologies to communicate and a wheeled chair, the lively and expressive 18-year-old is now a senior at Ashland High School (AHS), loves music, theater and most anything by Taylor Swift — her famed song "Shake It Off" inspired him to walk by himself at age 12. He's a 4.0 student and has big dreams of becoming an actor, model and/or sound engineer in New York.
"Luke is one of the most heroic people I've ever met," said Matt Sampson, executive director of Sparrow Clubs USA, during a student assembly at AHS on Nov. 8. "I met him when he was 9 years old."
Sparrow Clubs USA, a Bend-based nonprofit with a Medford regional office, is partnering with Luke's mother and Ashland High to fundraise toward purchasing a wheeled chair-accessible van to ease the burden of travel, both now and after high school.
"I've seen him push through things and I've seen him achieve things that are nothing short of miraculous," Sampson said.
A smiling Luke Hogan Laurenson spun around in his wheeled chair excitedly as fellow classmates filed into the gym before the sparrow assembly organized by AHS leadership students and staff.
The teen expressed his excitement surrounding the Sparrow Club assembly held in his honor, though he's participated in them before while at Bellview Elementary and Ashland Middle School. Ashland High hasn't partnered with Sparrow Clubs USA since the 2018-19 school year, so the assembly for Luke is somewhat of a return to normalcy, both for the organization and for AHS.
Students watched the "Shake it off" video created for Luke in 2017, where he danced with fellow students with the help of his mom and Ashland Fire & Rescue personnel, drawing spirited applause from the crowd.
Sampson emphasized that students and their families shouldn't feel sorry for Luke, but allow him to inspire them to overcome difficult odds as well.
"Luke's life is filled with people early on who told him, you're never going to do this, you're never going to do that," Sampson told students at the assembly. "If Luke can do it with the challenges that he's faced in his life, you can, too."
Sparrow Clubs USA is a nonprofit organization, headquartered in Bend and with a regional office in Medford, that partners with schools, communities and businesses to encourage students to make a difference in the life of a child who has a debilitating or life-threatening illness or disease. The organization began with founder Jeff Leeland whose son, Michael, suffered from leukemia during childhood but recovered after the community rallied around him. Leeland's mantra was, "Kids will do heroic things if they have heroic things to do."
Sampson believes the same is true for the organization today.
At the assembly, Sampson encouraged students to "step into compassion" and perform 300 hours of community service that will benefit Luke, hours that earn credits toward "unlocking" $3,000 toward the purchase of the van. T.C. Chevy is among the community sponsors helping pave the way for a new van for Luke. Aside from the $3,000 that students "unlock" through community service, they have the opportunity to create their own fundraisers to support Luke throughout the year.
Hogan is excited about the impact Luke will have on those around him through participating in the program.
"You can be pretty narrowly focused as a teenager and to think beyond yourself and that's what Luke helps people to see," Hogan said.
She's seen how people respond to her son's charisma and how it changes them, too.
"Luke is someone who can help break down the walls that are around the differently abled," Hogan said during an interview with Ashland.news, at her home. "People can talk to him just like they talk to everybody else. He's approachable, wants to connect with you, talk with you, dance with you."
Seated around their kitchen table at their Ashland home on Nov. 3, she helped her son to a snack after school. It was the day before Luke's 18th birthday and, like any teen, he was so excited.
A straight-A student, Luke excels in math, despite only having the use of one of his thumbs.
"I'm a linear guy," he said via his iPad, following an afternoon snack at his kitchen table at his home.
They both jammed to music by Taylor Swift at the table and talked about an upcoming Ed Shearin concert in 2023 Luke plans to attend.
A poster showcasing the 2019 OSF rendition of "Hairspray" in which he starred is placed prominently on the refrigerator.
When asked, he said, with some translation help from his mom, "I want to go to New York and do acting and 'Hairspray' in New York."
He and his mom visited former OSF artistic director Bill Rauch and his husband, Chris Moore, in New York this summer. The mother and son got to dogsit for the couple while they were on a European vacation.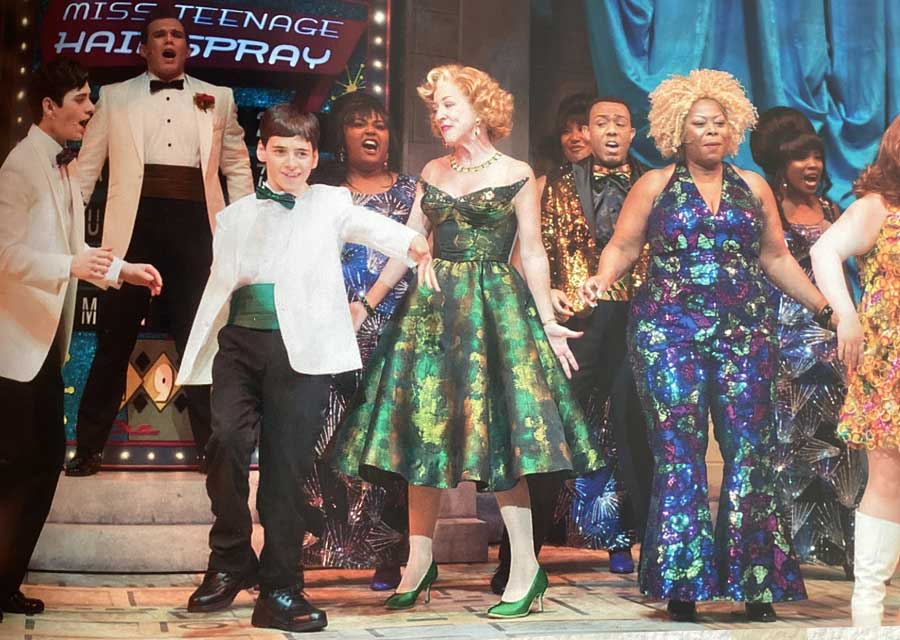 Luke and Bill have a close connection as Bill has a brother who grew up with cerebral palsy as well. Moore also directed Luke in "Hairspray" and worked on OSF productions with his older sister Julia.
Around the kitchen table, Luke also recalled meeting Taylor Swift when he was 13, thanks to a little help from the Dream Factory of Oregon, an organization that grants wishes to critically ill children, according to a story reported by The Oregonian in 2017.
He's hoping to see her next tour, "Eras," after the recent release of her album "Midnights." (Nov. 23 update: With the help of his sister, Luke secured tickets.)
"She's going to do every album on the tour," Luke said, translated by his mom.
"We saw her for the 'Reputation' tour," Hogan said.
"We share the love of music," his mom added.
Hogan said she shares the same feelings about music that her son has.
"I felt the same way about Carly Simon when I was growing up," Hogan said. "And I actually ended up living with her and James Taylor when I was 18. So I have really been a supporter of Luke following his dreams.
"We never gave up that he could meet her some day," Hogan added.
And she never gave up throughout his life, either, when it came to navigating his different abilities.
"We just prayed about it and dreamed about it," she said.
While she shares a lot of light-hearted moments with her son, she also said it hasn't always been easy, especially traveling with him. Fundraising provided through Sparrow Clubs USA and through private fundraisers organized by AHS will make a world of a difference in helping him navigate life after high school.
Among them are a special, limited-time coffee blend named for Luke that Rogue Roasting Co., will be selling soon, a 5-K run in the spring and Mr. Grizz pageant, with full proceeds going toward Luke's fundraising goal.
One hour of community service unlocks $10 of what Matt Sampson, of Sparrow Clubs, calls "seed" money that sponsors have already contributed towards the fundraising goal. For the first time, Southern Oregon University athletes have plans to join in on the fundraising effort as well and plan to partner with Ashland High to help fundraise for the wheeled chair-accessible van. SOU women's basketball and softball student-athletes will participate in community service efforts as well.
"They're playing a tangible role," said Kena Sampson, director of Southern Oregon's Sparrow Clubs USA chapter, during an interview at the Medford chapter office on Nov. 9. "We'll kind of see where that goes," she said.
Families like Luke's are accepted into the Sparrow Clubs USA and partnered with a school, not only as a way to meet their financial and emotional needs, but also as a way to spur young people to make a difference for the greater good, in turn, changing youth culture from the inside out.
"The kids don't know that," Kena said. "We're coming in with a secret mission."
Kena oversees fundraising and Sparrow Clubs in Southern Oregon, including Cave Junction, Klamath County, and as far north as Roseburg.
For students who participate in the Sparrow assembly, Kena sees "full circle" transformations throughout the year.
"It's such a beautiful moment that I do believe sticks with them for the rest of their life," she said. "It's a moment that you don't ever forget and it's a moment that we're all connected."
"It's all about compassion," Matt Sampson added. "Our job is just to be good stewards of how to open that up to kids."
A dance-a-thon fundraiser is also scheduled in January and, fitting to Luke's personality, he has high aspirations.
"I am going to win!" he said.
"He thinks he's going to stay all night and dance," she said, with a laugh.
Kena Sampson emphasizes that fundraisers organized by leadership students at AHS are all their own.
"We don't ask them to do any extra fundraising," she said. "Our currency is community service so we don't ever go into a school and ask to bring money in.
"That's the fun part of working with leadership (students) is you get to celebrate with them that they're jumping onto this," she added. "That's where you find so much joy and you find your value is when you're serving other people."
Those in the community who may want to donate toward Luke's wheeled chair accessible van can contact AHS at 541-482-8771.
To learn more about Sparrow Clubs USA, go to sparrowclubs.org.
Reach Ashland.news reporter Holly Dillemuth at hollyd@ashland.news.