Ye Olde Cobbler Shoppe makes hay out of leather
By Jim Flint for Ashland.news
Sometimes getting out of a lease requires a drastic action. When Dan Shulters, owner and operator of Dan's Shoe Repair in Ashland, offered to gift the business to Jerry Carpenter in exchange for taking over the remaining three years of the building lease, Carpenter didn't take long to say yes.
Well, he had only three days to decide.
Carpenter and Shulters had hooked up through a Facebook group called Shoe Repair International (SRI.)
"I had gone through a divorce after 25 years of marriage and was looking for a fresh start," Carpenter said. "Dan and his wife had moved to Africa. They sold the business in a contract for deed agreement, but it didn't work out."
Carpenter flew out from St. Croix Falls, Wisconsin, to take a look at the shop and the town. Two weeks later, he was running the business, renamed Ye Olde Cobbler Shoppe, located at 27 S. 2nd St. That was in November 2020.
"I am incredibly blessed," he said. "Ashland has responded amazingly."
Carpenter, 54, is an Ashland resident. He was in the shoe repair and retail business for 25 years with his former in-laws.
"I met a girl and her dad taught me the basics," he said. "I honed my skills by trial and error. I've had many other odd jobs along the way, but have always done shoe repair since 1991."
The work is more than just about shoe and boot repair. Carpenter also does cleaning and shining; works on purses and luggage; does patching, stitching, and stretching; and replaces soles and heels.
"We use machine patch stitchers and hand stitching in our repair work," he said, "Using all types of materials, but mostly leather."
Shoe stretching can solve a lot of problems related to bunions, hammer toes, or the need for a wider toe box.
"The process takes about a week," he said. "The shoe goes on a machine and is sprayed with a solution that releases the leather. The machine is cranked to a certain amount of tension to stretch the material." The tension is adjusted incrementally each day to achieve the amount of stretch needed for an improved fit.
Carpenter also offers something not usually associated with shoe repair shops: tailoring services.
Tailor Ryan Neufeld comes in three days a week — usually Thursday, Friday and Saturday — through an arrangement that offers Neufeld an internship on cobblery in exchange for bringing his services to the shop.
"I do alterations, repair, hems, and can take in a suit coat," Neufeld said. "I have both men and women clients."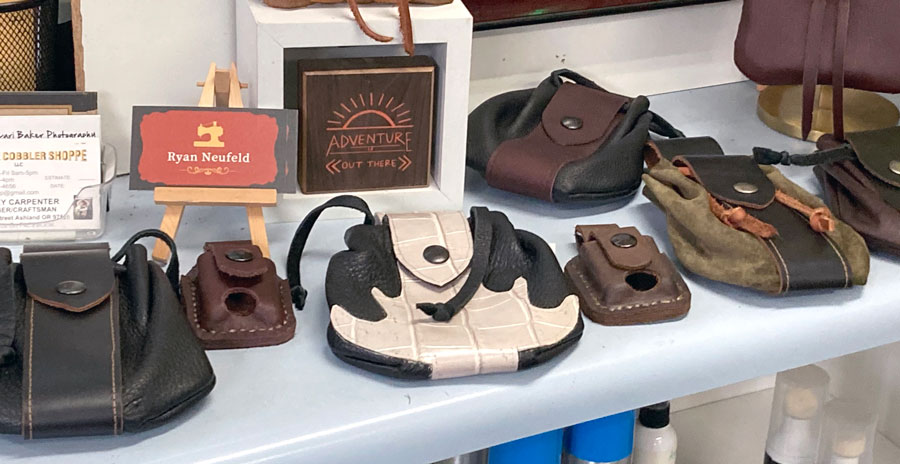 Carpenter markets his services mostly through word-of-mouth and social networks. He regards SRI, the Shoe Repair International Facebook group, as an important resource.
"With many cobblers around the world in the online group, it is a great place to learn new techniques and for exchanging ideas," he said.
"There have been many changes in shoe repair, but it also is just fixing stuff. Although the craft is old school, machines have been updated and modified over the years. However, hand-sewn and hand-cobbled is what people like."
Happy customers are what it's all about, and Carpenter has many.
One customer brought in an old pair of beloved Birkenstocks in disrepair. He added new footbeds, liners and soles, "and they looked brand new again," he said.
A few weeks ago, an older woman brought in a shoe for a re-do on a build-up job. A build-up is an orthopedic lift to remedy leg length discrepancy. She had Carpenter do a similar job for her about two years ago at a cost of $140, but this time she tried another craftsman who offered a cheaper price.
"But she couldn't wear them," Carpenter said.
After Carpenter fixed the problem, she was a happy camper.
"She was happy to pay the price, because the job was done right," he said. "She gave me a hug and cookies!"
He likes doing the work and considers it therapeutic in a way.
"I enjoy the look of joy on customers' faces when they pick up items," he said.
In a throw-away society where many people keep shoes until they wear out and then discard them, one might not expect that an old-fashioned shoe repair shop would attract so many customers.
People who are environmentally conscious increasingly don't want to keep filling dumps. "And that keeps my profession going," Carpenter said.
Some have sentimental attachments to items, many of which are family heirlooms, and are pleased to be able to have them preserved.
"We also cut back on consuming natural resources by refurbishing people's shoes and other belongings," he said.
As a community service, Carpenter keeps a barrel outside the store for people to leave or take a pair of shoes.
"I call it spare a pair," he said. Thousands have been given away.
Carpenter has handled some very valuable items.
"For example, I've worked on a pair of $2,500 shoes, on boots for WWE wrestlers, and boots for Metallica," he said. "But, of course, everything I work on is valuable to the customers they belong to."
A recent job involved reinforcing more than 30 pairs of boots for Oregon Cabaret Theatre's "Kinky Boots" musical, running June 16 through Sept. 3. The fancy boots were sourced from numerous online outlets.
"We reinforce most of our shoes for almost all of our dance shows," OCT Artistic Director Valerie Rachelle said. "Dancers need reinforced shoes, especially ones with heels. We don't want anything to break or become dangerous while actors are dancing."
Carpenter, who does all the shoe work for OCT, is installing rubber protective non-slip soles on most of the "kinky" boots, stretching a few pairs, and putting metal brackets on the underside of heel and sole areas to improve stability.
Some people think Carpenter builds shoes from scratch. Not the case.
"We are cobblers, not shoemakers," he said.
There have been other misconceptions about the business, one involving a mistaken impression.
"I have had people asking for peach cobbler, not realizing that we are a shoe repair business," Carpenter laughed.
You may not find any peach cobbler at the shop, but you just might encounter some leftover ye olde cookies, dropped off by a satisfied customer.
For more information, go to facebook.com/Soleman69/.
Reach writer Jim Flint at jimflint.ashland@yahoo.com.