Pacific Rim Bowl gridiron matchup record tied at 8-8; last trip to Japan was in 2017
By Holly Dillemuth, Ashland.news
There's more than 5,200 miles between Ashland and Kobe, Japan, but soon the distance will be measured in yards and inches.
Ashland High School football players will travel by charter bus, plane and, while in-country, bullet train, on the football program's storied return to the annual Pacific Rim Bowl (PRB). If all goes according to plan, the travel squad — Ashland High's 30 football players, eight coaches, one trainer and 23 boosters — will be in Japan on July 22, play in the game at Kwansei Gakuin University on July 29, and return to Ashland on July 31.
It will be the first time back in-country for the annual bowl game since 2017.
Players have been making the trip every two years since 1988 and, over the years, have welcomed the Japan All-Star team to Ashland eight times. While the partnership remained intact during COVID-19, the pandemic postponed games in 2021. Smoke forced the game to be played in North Bend instead of Ashland during 2019.
Ashland football players will again lace up their cleats for the annual gridiron matchup with Japan's All Star football team at 5:30 p.m. July 29 at Oji Stadium in Kobe, Japan. The game will be livestreamed on Facebook, with the possibility of a local viewing at 5:30 p.m. in Japan/1:30 a.m. West Coast time, with a place to be determined.
Between July 22-31, the team will also enjoy sightseeing tours and welcome meals with Japan's All-Star team.
"Whether win or lose, only good things can come out of this game as far as building a relationship with each other," said Ashland High Head Coach Beau Lehnerz, during an interview with him and some of the team members at the high school on Wednesday. "During the season, when there's adversity …. they can rely on each other. That's the hope.
"In years past, Pacific Rim Bowl years have been our most successful in a lot of ways," he added.
For the seniors going on the trip, it will be especially meaningful.
"It's really the kickoff to their senior year," Lehnerz said, noting no pun was intended. "They're
going to experience this together, as seniors, as teammates, and that's about the best team builder you can have."
As sophomores, the current seniors had their planned PRB postponed in 2021 due to COVID-19.
Fundraising frenzy
"There's always a lot of buildup for the Pacific Rim Bowl and one of the key selling points for being in our program," Lehnerz said. "These guys were anticipating that and having it postponed, it's kind of not as in the public eye or in the community's eye as much as it would've been if it didn't get interrupted. So, we're excited that we got so much community support financially to make this happen."
More than $180,000 total has been raised for the trip, according to Steve Mitzel, secretary of the Pacific Rim Bowl board of directors, who will travel with the team.
"We fundraised as much as we (could)," Lehnerz said, "probably more so than we usually do. "We want the kids to earn the money."
"We really just got OK in January to go," he added. "The biggest thing was, how do we pay for it?"
Fundraisers included selling sushi and sliders in April.
"The kids have been doing a lot of community service," Lehnerz said. "We call it 'Rent-A-Grizz,' working for people in the communities."
Besides figuring out a way to finance the trip, it's been a busy time figuring out the logistics for the trip itself, "and then also get ready to play football," he said.
His biggest aim is for the players to come home healthy and ready to play this fall.
Touchdown timeline
Players will take a charter bus to San Francisco on July 22, then fly into Osaka. In the past, players have stayed with host families, but this time they'll stay in a dormitory at Kwansei Gakuin University in Nishinomiya, Japan, in the western region of the island nation.
"These guys have heard about it, we talk about it, but they're not going to know the impact and the legacy kind of thing that they're stepping into that other people in their shoes have until we get there, coming off the plane, and that humidity hits them in the face," Lehnerz said.
During their time in Japan, Ashland players will also take a bullet train or shinkansen to see the Hiroshima Peace Memorial Park. Players will also get the chance to tour the Kyoto Movie Studios.
What makes the trip even more special is that this year's team has largely been playing together since third grade, according to Lehnerz.
"It'll be fun, it'll be a good experience, especially as a senior with all my friends I've grown up with," said Crosby Lehnerz, 17, who is a senior this fall. He is the son of Head Coach Beau Lehnerz.
"It's almost better that we're going as seniors instead of sophomores, it's like our senior trip," he added.
It will be Coach Lehnerz's fourth time going to Japan for the game, and second time as head coach.
Asked who among the players had been out of the country, a handful raised their hands, but none had been to Japan.
One expressed nerves about flying over water, another about eating sushi. But all appeared excited for the upcoming trip that coaches and organizers say will have a huge impact not only on their team dynamics going into the fall, but also for years after they graduate from AHS.
'More than just a game'
AHS Quarterback JoJo Harrower says this contest will be keener competition than playing against another high school team.
"We've seen some of their highlights … they have some quick dudes, they're super sharp," Harrower said.
"It's going to be completely different," he added. "Everyone is going to be good. There's not going to be any liabilities on their team."
Harrower also noted the camaraderie that the teams are already building online.
"We've followed each other on Instagram," he said.
He also sees potential for the teams to match up well in a lot of categories.
"They're going to be sharp," Harrower said. "They're going to watch our film, they're going to study, they're going to know what we bring."
Lehnerz emphasized that since they are an all-star team, there's not a game film that the team can send over to break down.
"This is a different experience because in the past, students would stay with host families," Lehnerz said.
During the trip, though, the team will be paired up with a "brother" from the Japan All-Star team and their family for an afternoon to tour Osaka, Kyoto, or Kobe and have dinner together.
"Not sure what the families are going to do, it'll be a different experience for every player," Mitzel said.
Lehnerz hopes that homestays return in the future but, in the meantime, he hopes that pairing the players with players and their families from Japan for a day while there will help boost the cultural experience for the players.
"As our motto says, 'it's more than just a game,'" Lehnerz said. "These kids have heard a lot that people before them when they were living with these host families, they build a bond of brotherhood with these people that they're with for six or seven days, from across the world that they may not ever see again but they stay in touch, and so we want these guys to get as much of that as possible.
"That is probably the most important part of this whole experience," Lehnerz added. "These guys are complete strangers with their opponents and then in seven days, ideally they become tight and close friends and they're just high school kids. We want them to have that experience as much as we can."
The last Pacific Rim Bowl took place in North Bend, Oregon, following issues with smoke in
Ashland. AHS lost, but the matchup tied up the win-loss record at 8-8, setting the table for an pivotal matchup this month.
Mitzel sees potential for Ashland to have an advantage during this year's Pacific Rim Bowl matchup, specifically with AHS having a tall team.
From what Mitzel knows about this year's Japan All-Star team, they are fast, but most are shorter than Ashland's team.
"The average height of this (Ashland) team is 6'1-6'2," Mitzel said.
Lehnerz said their biggest advantages are that many of them are multi-sport athletes and have played together since third grade.
"They've been playing since third grade together," he said, noting many played Pop Warner together. "They've got a lot of experience and they've taken a lot of lumps, but I think they're learning from that."
Lehnerz describes it as "the ultimate road game" — except this time, it's in a different country, at the other side of the Pacific Ocean.
"They're going to have to adjust to all of the things going on (and) being super busy all day long," he said.
A tradition steeped in history
Charlie Hall, a director on the Pacific Rim Bowl board, will travel with the team as an ambassador and past coach.
In an interview with Ashland.news Thursday morning, following practice at Phoenix High School, where he accepted the head football coaching job in February, he noted the competition in the past has been steep.
The Japanese all-star team is selected from more than 40 high schools, with players chosen based on academics in addition to athletic ability. Students come from the western part of Japan, in Osaka, Kobe, and Kyoto.
"That's the main area they draw from, however, they do go from as far south as Hiroshima," Hall said.
In the future, Hall said he'd be interested in including Phoenix High football players in the PRB, to form more of a Rogue Valley-based All-Star team. No actions have been taken toward that end beyond talks, but he sees it as a positive step forward.
Hall has an extensive history with the Pacific Rim Bowl. He served 12 years as head football coach at Ashland High and six years as head coach at SOU. He was also part of six Pacific Rim Bowls as head coach, with a 3-3 record.
Hall, who is half Japanese, talked about the dynamics of the partnership, including the athletic and cultural exchange.
"Boy, I was just so taken back by this opportunity to be part of a program that connected me with my roots," Hall said, noting his mother was from the northern part of Niigata, Japan.
Hall is excited about the upcoming trip, both for the kids and so he can reconnect with the Japanese coaches.
"Over the years, we've made some really good friendships with the Japanese coaches and officials," he said. "Some come to the states quite often and we stay connected."
He also noted his connection with Chuck Mills, who he credits as influential to the origins of the PRB.
Hall played for Mills at SOU in 1980 and 1981 when Mills ran the football program.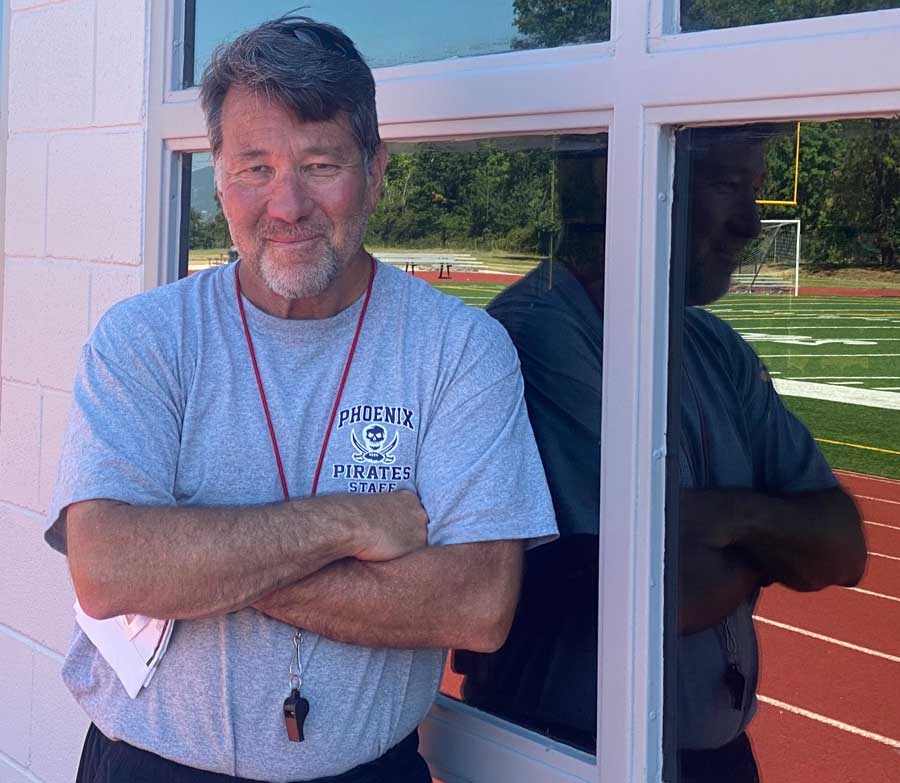 To provide context to Mills influence on the sport, Hall noted that, while the Heisman Trophy is given to the most outstanding college football player in the U.S., the Japanese have their own collegiate trophy and it's named after Mills.
"In Japan, there's probably 60-plus universities that play college football," Hall said. "The Mills Trophy is for the most outstanding college football player in Japan, so Chuck is revered, there's no doubt."
Mills is known as the modern father of football in Japan, according to the PRB website.
Hall emphasized that while Mills was more influential at the collegiate level in connecting American universities with Japan through football, he laid the groundwork in Japan for future partnerships with American players.
"Chuck is basically the father of connecting American football with Japan," Hall said.
In 1971, Mills took Utah State football players to Japan to play at Kansai Gakuin University, which is where the AHS team will stay during the week-long trip.
After that, Mills also took Wake Forest to Japan and then took SOU in 1985, after Hall had graduated.
"The very following year was the very first time a Japanese college team came to America and played SOU in 1986," Hall said. "And during that week of preparing and being apart of the
celebration of coming to America, some of the officials at that time met Coach (Jim) Nagel down at the high school."
One of the Japanese officials was Akira Furukawa, who was at the time an administrator with Kwansei Gakuin University.
"(Furukawa) and Coach Nagel basically put their two heads together and came up with the Pacific Rim Bowl," Hall said.
Nagel, who coached AHS Football from 1983 to 2002, remembers the conversation that led up to their partnership. Nagel now serves as president of the Pacific Rim Bowl board of directors.
"We talked about all kinds of things, including what we use to line the fields and practices and all of that," Nagel told Ashland.news via phone on Friday morning.
Nagel said Furukawa shared with him about a dream of having an American high school football team from the Mainland United States to come play a Japanese All-Star team and asked if Ashland was interested.
Nagel's immediate reply was yes, but he had to talk it over with the district.
"Everyone was excited and on board fully," Nagel said.
By 1988, the first game was scheduled and the AHS football team made the flight to Japan.
Nagel remembers the game — especially for the weather .
"It's the only football game I've been involved in due to a torrential rain," he recalled. "But we got it going and we managed to win."
Scott Chadick, who is now quarterback coach at AHS, was then the QB himself. He'll be making the trip this month as a coach.
Chadick was the first to score a touchdown in the 1988 game, ending in a 13-0 Grizzly victory.
Besides the game stats, he recalls being a scared, introverted 17-year-old, while simultaneously being placed with a host family by himself.
"It was an experience of a lifetime," Chadick said. "It definitely teaches you to open your mind, you know, step outside your comfort zone."
To this day, Chadick looks back on the experience with fondness.
"I've been to England, I've been to New Zealand, I've been all over the U.S," he said. "Nicest people in the world (in Japan)."
Representing your country
Nagel also noted how the Pacific Rim Bowl is much more than a game for both Ashland and for players from Japan.
"It always hits home to me when the national anthems of both teams are played prior to kickoff," Nagel said. "You see the players standing there, lined up on their respective sidelines and listening to their respective anthems and that's always been a moving moment for me and everybody."
"This is what's great about sports … you can have friendly competition and on gameday, you're bitter enemies," Nagel said.
"But … the thing that I would have to say is, after every game, if you just showed up at the end of the game, you could absolutely not tell who was the winner from the loser. Both teams look like they were winners."
Nagel noted that most of the games have been really close as can be seen on the Pacific Rim Bowl website.
"Immediately after the game, everybody's hugging, everybody's together in groups taking pictures," he said.
"That's very heartwarming," Nagel added.
Of all of the things that have changed with the partnership over the years, "that hasn't changed," he said.
Nagel also noted that the exchange continues to be a unique one, and one that drew ESPN coverage in 1988 and 1990.
"As far as I know, we're still the only (mainland United States) exchange of that nature," Nagel said.
The 'Kitchell Games'
Players from Ashland and Japan will also compete in the annual Kitchell Games while in Japan.
The competition is an homage to the late David "Dave" Kitchell, longtime football coach with the Grizzlies and teacher at Bellview Elementary, according to Mitzel. Kitchell died of cancer in 2007.
The annual event features passing league games for each team and a seven-event Lineman Challenge, according to Steve Mitzel. All-lineman challenge relay teams consisted of five linemen. Kitchell was instrumental in pushing Grizzly football players during summer strength and conditioning for 20-plus years as an Ashland assistant, Mitzel said.
"Once every four years the Japan All-Star team also competes against the visiting area teams. It is a great opportunity for all involved to get in on the culture, competition and camaraderie of Pacific Rim Bowl week," Steve Mitzel said in an email. "Winning Linemen Relay Teams earn Champion T-Shirts for the individual events and the overall winning linemen team earns the coveted "Coach K" trophy and bragging rights for the year. The "Linemen Challenge" events are: Bench Press Endurance Relay, 3 Plate Grip Relay, Tug of War, Plate Relay, Frisbee Throw and Catch, Obstacle Course and Tire Flip Relay.
After his passing in 2007, Ashland High wanted to recognize his legacy with this summer-ending event among Rogue Valley High Schools.
Those who would like to witness the competition first hand can watch a Rogue Valley version of the Kitchell Games from 5 to 9 p.m. Tuesday, July 18, at Walter A. Phillips Field in Ashland.
To learn more about the Pacific Rim Bowl, check out the YouTube video, featuring Nagel and AHS graduate, PRB player and former NFL player Chad Cota here: ashlandfootballclub.com/pacific-rim-bowl/.
Reach Ashland.news reporter Holly Dillemuth at hollyd@ashland.news.
July 17: Spelling of Beau Lehnerz corrected.