'The Crest Fest' set for 2-7 p.m. Sunday, July 24
Music, food, farm tours and kids activities are all on tap Sunday, July 24, at "The Crest Fest," a fundraiser at Willow Witt Ranch east of Ashland.
Families are encouraged to have fun while helping out The Crest at Willow Witt, a nonprofit dedicated to cultivating the connection between people and nature at the ranch, 445 acres of restored forest and wetlands combined with a small working farm and ranch dedicated to alternative energy and sustainable agriculture. The nonprofit offers self-guided tours, public events, school programs and summer camps. Proceeds from The Crest Fest will help fund week-long summer camps for ages 6-11, community service projects, and field trips for schools.
Gates to The Crest Fest open at 2 p.m. for goat hikes and farm tours. One of the outstanding features of Willow Witt is its pond, built in the 1950s, which is now home to many breeding Western Pond Turtles, a threatened species.
Kids activities will be led by Grandma Boom, aka Janai Mestrovich. If you have attended recent Ashland July 4th parades, you have seen "parade fairy" Mestrovich. Calling herself "an expert in 'edutaiment – educating while entertaining,' Mastrovich dons one of her many costumes and becomes Grandma Boom, bringing art and movement to kindergarten and elementary school classes, teaching kids how to connect with their emotions and deal with stress.
Food trucks, wine, beer, and soft drinks will be available, or people are welcome to bring their own food.
Music begins at 3 p.m. with Paraffin Dove, a new Ashland band performing jazz, rock, funk, blues and soul, followed by Blue Lightning, a high energy dance band celebrating 30 years of performing in Ashland.
Paraffin Dove is a new band with influences from musicians that include John Coltrane, Frank Zappa and Led Zeppelin. Guitarist Calder Fettig and saxophonist Jack Kovaleski are both music students at SOU. Bassist Jerry Burke-Perez has performed with 20 local bands, including one with Jeff Pevar. Drummer Joey Natiella performed in a dozen bands in the San Francisco Bay area before moving to Ashland in 2018.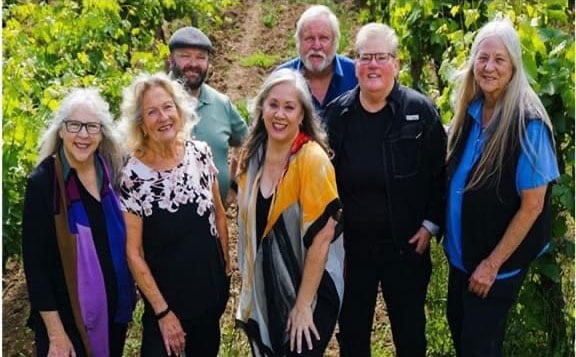 Established 30 years ago, Blue Lightning is a high energy band that gets an audience out of seats and dancing. The band features Sue Lundquist on keyboard, guitar and Djembe; Rhonda Loftus on drums; Trish Cook on vocals; Crystal Reeves on vocals, fiddle and mandolin; Dianne Strong-Summerhays on lead vocals; Cedric Buckingham on bass guitar; and Brent Norton on vocals and lead guitar.
Admission  to The Crest Fest is $15 per person or $30 per family; kids under 5 years old are free. Tickets are available at The Music Coop in downtown Ashland, online at thecrestatwillowwitt.org, or at the gate.
The ranch is at 658 Shale City Road off Dead Indian Memorial Road, approximately a 25-minute drive from Ashland. The event is scheduled to wrap up at 7 p.m.
Source: News release from Willow Witt Ranch. Email Ashland.news Executive Editor Bert Etling at betling@ashland.news or call or text him at 541-631-1313.