OSF artistic director shares heavy toll of recent years; plans to leave by May 31
By Holly Dillemuth, Ashland.news
It cannot be said definitively why Oregon Shakespeare Festival Nataki Garrett announced her resignation on Friday, but what is known is that she has been under intense pressure since she took the helm as the sixth artistic director in the organization's history in 2019. From navigating the COVID-19 pandemic and the aftermath of the Almeda Fire to handling death threats and drawing criticism for her artistic programming, the pressure continued to build in January as OSF announced layoffs and the exit of Executive Director David Schmitz, and she assumed the role of interim executive director, as well as artistic director, from mid-January to mid-April.
In a Zoom interview with Ashland.news on March 22, Garrett didn't mince words about the level of stress she's endured for the past four months and preceding four years — stress that eventually contributed to her resignation, which she announced publicly Friday, May 5, effective May 31.
"My job was announced March 19, 2019, and I have spent four years in crisis," Garrett told Ashland.news in March. "I have crisis-managed this organization for the entire time I've been here. I have done my best to impact and do my work in this time, but it's hard to focus on doing your work as an artistic leader when there's so much crisis."
While releasing only written statements to local media organizations, Garrett and OSF Board Chair Diane Yu spoke with American Theatre, a publication of Theatre Communications Group, last week and this week.
"You kind of have to get out before you burn out," Garrett told Rob Weinert-Kendt, the publication's editor-in-chief. "I don't want to be a liability to this organization. I could feel the stress of the year."
Part of the intense stress has included death threats, in addition to critiques of her programming since arriving at OSF. Some plays have been characterized as "woke" by some longtime OSF members and ticket holders within the community.
Garrett has shared with Ashland.news in previous interviews some details regarding her security detail hired by the organization. But in a March 22 interview with Ashland.news, she said the organization has been in touch with a federal prosecutor and with the Federal Bureau of Investigation (FBI), who "have as much information as we have." She also said, in addition, that she's met directly with Police Chief Tighe O'Meara regarding the threats made.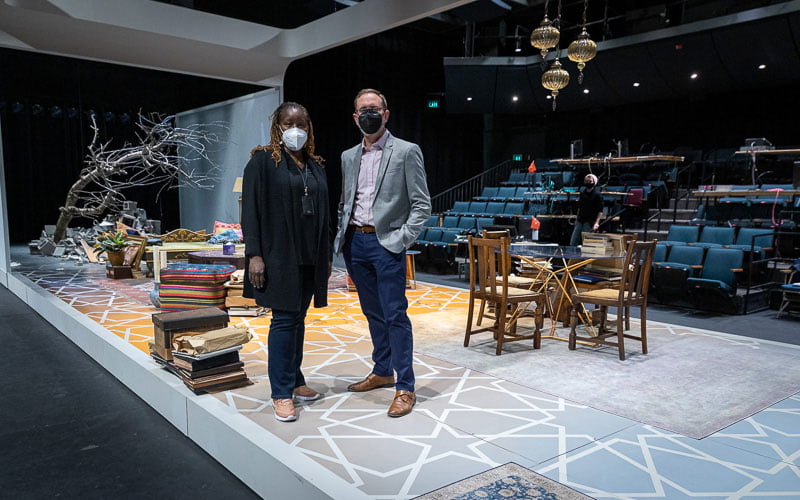 "I don't take my daughter to school because I don't want to put other people's children in jeopardy," Garrett said. "I don't go to the grocery store because I live in a community of people and they have a right to go to the grocery store without threat. And I do, too, but if I'm the one that the focus is on, then I can make other choices."
Garrett said she wished she didn't need her security detail.
"I was raised by an independent woman to be an independent woman," Garrett said, "and so it has really shifted the way that I move and run my life."
She maintained that she'd taken "action" to remain safe and that her family was in a "good place."
"I've been living with that for more than a year," Garrett told Ashland.news, of the threats to her safety, "and we put in place the measures we needed to as an organization to ensure my safety and the safety of other employees at OSF, who have also received death threats."
Garrett told American Theatre she "started to receive letters from a group of people that called themselves 'the old white guard,' and they were upset because in 2021 I didn't program Shakespeare."
That year, "Fannie," a one-woman play about the life of civil rights activist Fannie Lou Hamer, was the only play on the OSF stage.
Garrett also told American Theatre in an interview last week that in her first year at OSF, a donor told Garrett point-blank that she was the reason she rescinded "a large" donation to the organization.
"She came to me and told me to my face, and she said, 'I want to make sure you know it's not because you're Black,'" Garrett told Weinert-Kendt in an interview published Friday, May 5. "But there are things about the organization that you just don't understand," the donor continued, "and you have big shoes to fill."
Garrett responded, according to American Theatre, by saying, "Thank you for letting me know where you stand."
Garrett then went to her development team, she said, and told them that the organization would have to "pivot."
While the American Theatre article does not give the amount of the rescinded gift, an article in the Chronicle of Philanthropy, also published Friday, said "soon after she arrived … one (donor) rescinded a $4.5 million gift."
Not long after, the organization went into crisis mode, according to the American Theatre article, referencing the onset of COVID-19 and the aftermath of the Almeda Fire, prompting Garrett's comment to American Theatre: "You can't really build the plane and fly it at the same time."
NPR's Bilal Qureshi brought attention to feedback from the community on her programming in September 2022 in an article headlined "Oregon Shakespeare Festival focuses on expansion – but is not without its critics," mentioning pushback on social media and letters to OSF, and in a pair of columns by Ashland.news columnist and board member Herbert Rothschild Jr. (Rothschild at the time was board president.)
"My concern is that they have decided to essentially remake the OSF into something it wasn't … instead of building on their strengths, really turning their back on its strengths," Rothschild told NPR. "If so, I think they're going to drive it into the ground."
In a column, he encouraged "OSF leadership" to be cautious, calling "the reinvention of OSF a major gamble …at a time unpropitious for gambling."
Garrett addressed these concerns, and those held by others in the community, in previous Ashland.news stories.
"I love critique," Garrett said, in the interview with Ashland.news in fall 2022. "I'm not interested in silencing people. I think everybody has the right to say what they say … What I'm asking for is to be conscious of the impact.
"The ripple effects are real," she emphasized. "But we can be more conscious because we are a more thoughtful society."
She acknowledged in the interview with American Theatre that the "pace of change" she had in mind didn't match up with the stakeholders or audiences at OSF.
"When you recognize the potential for something to shift, and you can see the path, then the question becomes, how do you implement a strategy where that is possible in an environment that sees any shift as radical change?
"At some point, you're working at cross purposes with an organization that wants to remain in some ways recognizable to itself and its history. The way forward that I see does not include an adherence to that; it includes that as a foundation."
Adding to the stress of the last four years has been death threats to Garrett and others at OSF that have been unnamed.
Garrett also emphasized she has personally felt the "local outpouring" of support by some within the Ashland community who have made her feel welcome and safe.
"It's touched my heart," Garrett said. "I've had people stop me in stores to tell me that they're sorry that this is happening, but they know it's happening."
"You only need one person to do something terrible like make a threat but it takes a community to shift … how that threat can actually impact," she added. "A lot of my decisions on how I move through this city, to be honest with you, are really about not wanting to put anybody else in jeopardy.
When asked by Ashland.news in late March what kept her in her role amid all the stress, at the time, Garrett said: "It's my job and I was hired by the board of directors of the Oregon Shakespeare Festival to lead this organization.
"I don't know if I was hired by them to lead this organization through a pandemic crisis and a recovery, I don't think that anybody knew that was coming," she said. "But that's where we landed together, and as long as the board of directors wants me to lead this organization, I will do that."
She did acknowledge that there are two dualities when working in the theater industry: One, existing as part of a larger industry at large and, two, as part of a community such as Ashland.
"The theater has to continue to evolve and no matter who's running it, who's acting on the stages, and who's building the art, and who's managing it, and who's marketing it, and who's fundraising for it," Garrett said. "All of those people are going to be consistently new and the endeavor is going to continue to evolve."
At OSF, that work will now continue to evolve without Garrett.
"I am leaving with gratitude and great respect for the many talented people I have come to know and work with here at OSF, who work tirelessly to make sure the show must go on," Garrett said in a statement released Friday. "I am grateful for the opportunity to lead this organization for the past four years as we collectively navigated one of the most challenging times in the festival's history."
Oregon Shakespeare Festival Board member Octavio Solis will temporarily oversee the organization's artistic team in the short term. Solis was unavailable for comment in time for this article.
Along with Solis, other OSF board members will provide leadership support during the transition, serving as special liaisons and advisors for various teams, including development; marketing and community relations; and finance and audit; according to the OSF release. Board member Tony Drummond, along with board chair Diane Yu, will serve as management transition co-leaders, meeting with senior OSF team leaders on a regular basis and helping to oversee "general transition matters." The temporary management structure is expected to last three to four months. It is unclear at this point what will occur after that.
"These are folks who have worked very closely with Nataki and have been witness to her boundless talent as an artist and as a leader," said Evren Odcikin, associate artistic director and director of artistic programming at OSF, in a statement sent to Ashland.news late Friday afternoon. "So they are, of course, emotional. We were able to check in before their first performance (of 'Romeo and Juliet') this afternoon, and hold space for those emotions. All I can say is that I am in awe of their commitment to this production, and the sold-out audience this afternoon, with more than 400 students in attendance, got a brilliant performance of the play."
An individual who wished only to be named as an OSF spokesperson issued the following statement Friday regarding Garrett's exit:
"This is very hard news to receive and it will take weeks, or months, to process," read the statement. "As a Leadership Team, we're doing what we can to support them. Currently, we do not expect any disruptions from this resignation for our performances and rehearsals.
Garrett's work on "Romeo & Juliet" was complete with its opening, like all directors that work at OSF, according to the same spokesperson.
"The artistic team and the stage management team will continue to support the production to make sure it stays consistent with her vision moving forward," the statement continued. "We've put the 2024 season planning on hold — to make sure that we ensure we have the necessary resources to be able to launch it. As such, actors and crews do not have their season offers yet."
Yu spoke with American Theatre this week, saying Garrett remains "one of the most ambitious, bold, passionate, and powerful artists I've ever come across," with "great taste and a great intellect for artistic creation."
In the American Theatre interview, Yu said that the "Save Our Season" campaign is "going well, against the backdrop of continuing fundraising efforts, and that the board was working closely with staff while interim artistic director and executive leadership is being sought."
"We still have a large number of donors who donate under $25,000 a year — our largest pool is that pool," Garrett told American Theatre. "But the way that OSF works is, that is usually balanced out by a group of donors who donate in the higher numbers. Without that group of people activated and galvanized to make sure that we survive, there's just no way forward."
American Theatre reported that former executive director David Schmitz "spent a lot of time with those people to pull them on board" in 2022, raising $7.5 million before he left.
Garrett shared what she called "the heartbreak of leaving OSF" with American Theatre.
"I believe there's a future for this organization," she told American Theatre. "If you use the foundation that Angus Bowmer created — he said from the very beginning that this was an experiment."
News of Garrett's departure comes on the heels of the organization's announcement that they needed upwards of $2.5 million to keep the 2023 season going, and a pause in plans for the 2024 season. The fundraising campaign, called "The Show Must Go On," was announced April 11, just a week before the start of the 2023 season, which kicked off with "Romeo & Juliet," directed by Garrett. The organization has since raised $1,512,406 as of May 4, following a $500,000 matching gift from the Tykeson Family Foundation, according to an email from OSF spokesperson Pati Navalta of Navalta Media.
The organization has a $16 million deficit, according to interim COO Anyania Muse, in a story previously reported by Ashland.news. Muse told Ashland.news reporter Lee Juillerat this year's budget sits at $37 million, nearly one quarter less than last year's $48 million budget.
"OSF, it takes a lot of money to run it," Garrett told Ashland.news in a March 22 interview via Zoom. "We are a $40 million organization, whether we do five shows or nine shows … and so there's a lot of money to raise."
In the same interview, Garrett shared muted excitement for the season — while she was simply glad it was happening, her anticipation for opening day was shadowed by the financial deficit faced by the organization.
"We're still in a recovery," Garret told Ashland.news via Zoom. "I would love to say it's like the work and the art …."
She noted that audiences would have an "enthralling time" seeing William Shakespeare's "Romeo & Juliet," "Rent," "Twelfth Night" and "Three Musketeers."
During the interview, Garrett also spoke at length, especially about "Romeo & Juliet," which she directed.
"I really created the setting so that I could give the actors a deeper point of exploration than what I had previously seen," Garrett said. "I told the actors to be able to engage in questions about the humanity of moment of circumstance that the characters are in."
In the play telling the timeless tale of two star-crossed lovers, she pushed actors and designers alike to move into a "space that allows them to have the freedom to explore it as if it were … a new piece of material, because that's how you actually get to the essence of the human condition. You have to explore it as if it's new."
Garrett noted in the interview that she has people in her cast who have been at OSF for 20 seasons, along with those who are newcomers.
"This a cast that sort of runs the gamut," she said.
She expressed excitement for opening day of the season, including "Rent," her favorite musical, a play that she planned to invite her mother to on opening night in mid-April. Garrett called the play "beautiful and impactful," with rich voices — and that it's also her mom's favorite musical.
"So I'm excited that we're opening and every single week is an endeavor to make sure that happens," Garrett said in late March.
Garrett praised playwright Jonathan Larson, who she feels died before his time, and left the theater industry a "jewel."
"My goal here is that it's the season of love," Garrett said, playing off the song "Seasons of Love" from the musical. "It's an opportunity to love on the work that we do, it's an opportunity to love on the art of OSF, the artmaking, the mastery, the craftsmanship, the people who do this work….
"I'm really excited about all that," she added, "but the most important thing is that we're still here.
"We have been tested for these last few years … We are really struggling to get through this year with the resources that we have."
Garrett says the organization has had a deficit since 2013, other than in 2021, when she raised $19 million for the organization.
"We have not had a year in the black since (2013), except for coming into 2021 with the $19 million that I raised," she said.
Garrett said that 2022 was spent debating among leadership at OSF how to bring OSF back financially to support and sustain the town.
"The endeavor was bigger than the resources that we had, so basically we borrowed for this year last year, and so we're sort of in a deeper hole," she said.
Garrett said, prior to the pandemic, the organization had an outside firm do a study to provide financial recommendations. Although much had happened since the study, including the departure of key leadership officials such as Executive Director David Schmitz in January, Garrett said, "We need more resource in philanthropy than we're bringing in. The ticket sustaining model for the American theater has been waning over the last 25 years and so, OSF is not immune to that and so we need to diversify our portfolio of donors."
She said at the time that, historically, OSF has relied on individual donors for support, more than corporate or foundation donors.
"It's actually an unsustainable business model," Garrett said, "so it's actually not going to work.
"We actually have to expand the corporate (donors), we have to expand the foundational (donors), and we have to diversify the number of individual donors that we have."
"We still need more resources and we cannot put the onus on the individual donor to be our primary support base for the kind of money that we need to raise," she added. "The focus now on the development side is to expand our donor base by expanding our corporate donor base, expand our individual donor base, and deepening our relationships with the foundations."
The interview took place before the announcement of the fundraising campaign.
The city of Ashland responded on Friday to Garrett's resignation news, thanking her for her service and pledging continued partnership with OSF.
"The city wishes her the best and will continue to offer partnership and unwavering support to OSF," read a statement issued by Dorinda Cottle, communications officer for the city.
On April 13, during a City Council meeting, Mayor Tonya Graham read a proclamation of support for OSF, encouraging the local community to continue to support OSF.
"OSF is an important anchor for the Ashland community and for the Southern Oregon region, contributing significantly to Ashland's and the Rogue Valley's quality of life. OSF is part of Ashland's unique character," the statement reads, in part.
Reach Ashland.news reporter Holly Dillemuth at hollyd@ashland.news.