Garrett calls task ahead 'daunting,' but is confident OSF can power through recovery as it right-sizes
By Holly Dillemuth, Ashland.news
On the heels of a major announcement released Tuesday afternoon that Oregon Shakespeare Festival's Executive Director David Schmitz had resigned, Artistic Director Nataki Garrett made plans to chat with Ashland.news Wednesday morning.
In between making sure her child was ready for school on time and letting the dog out, Garrett spoke with Ashland.news via phone about the way forward as she balances dual roles as both interim executive director and artistic director, the start of rehearsals for the 2023 season in six weeks, and adoption of a "Restructure, Reframe, Revitalize (3Rs) Strategy" for OSF over the next year or two.
"That's a miracle that we're one of the theaters that gets to keep going and we're going to keep powering through this recovery," Garrett told Ashland.news.
"It's daunting to take on both roles," she said, candidly.
Garrett said she personally believes the theater of OSF's size, scope, and impact needs to have a multilayered leadership model, one reason that she will have a team working with her.
"There's more than just me covering at the top," Garrett said. "I will have help."
Anyania Muse, currently managing director of IDEA (Inclusion, Diversity, Equity, and Access), will step in as interim chief operating officer, overseeing finance, audience experiences and education. She will report to Garrett.
Amanda Brandes will step down as director of development in mid-February.
Garrett said the OSF Board, knowing the gravity of asking her to fill the roles, asked not if she could take on the roles but if she was willing.
"They recognized the lift, the burden of taking on this extra work while I was directing this year," Garretts said. "They asked me if I was willing to take on this work and I said, 'yes.'"
Asked if an executive director role would be filled in the future, Garrett said that is unknown at this time.
"We're just trying to stabilize the organization," Garrett said.
Schmitz did not return calls or emails on Tuesday about the announcement, but OSF released a statement from him.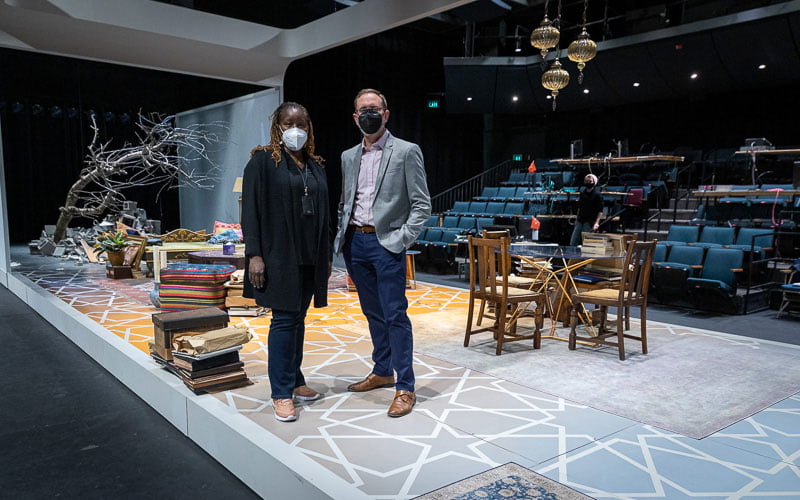 Schmitz came to OSF in 2020 after 15 years at Steppenwolf Theatre in Chicago, where he oversaw all administrative functions, including development, marketing, facilities and operations, according to an OSF announcement of his hiring. He started that fall, succeeding interim executive director Paul Christy, who served in 2019 and 2020, and Cynthia Rider, who was executive director from 2013 through 2018, according to an OSF news release.
Garrett also commented on Schmitz's resignation.
"David resigned on his own," she said.
Garrett and the OSF Board will have continuing discussions about how the organization moves forward with the role.
"We'll have a conversation if we're going to do a search, when that search is," Garrett said.
"But right now, everybody's just focused on stabilizing it."
Garrett said she believes the organization could operate with one individual — herself — balancing artistic direction and serving as interim executive director for at least one year, if not more.
"I don't want to bring anybody else into this situation while we're not stable," Garrett said. "We've got to make sure that we've got the right offering of shows, we just have to right-size ourselves."
Garrett said that once the organization makes some shifts internally that puts them in a good position on the business side of the operations, "Then we can start to move forward with somebody who is going to really take that and run with it."
Garrett said that the restructuring effort, which includes one dozen layoffs and seven furloughs along with Schmitz's resignation, is different from such efforts during the 2020 and 2021 COVID-19 pandemic.
"We are not shutting down the whole operation," Garrett said. "We're in a long term recovery … Recoveries unfortunately take longer."
"There are about 20 jobs we're not hiring this year at all, and that's going to be the biggest impact on us," Garrett said. "But 19 other people are either being laid off (12) or furloughed (seven)."
Those who experience layoffs will receive severance pay, according to Garrett.
Those who received notice of furloughs have also been given dates when the organization would like for them to return.
"We do know that sometimes people make other decisions — They're looking for more stable work where they can't, where they won't, be furloughed," Garrett said. "We do recognize we're going to lose some amazing people."
Garrett said she is hearing from colleagues industry wide experiencing low ticket sales.
"We're also having the same experience," Garrett said.
"We're all trying to figure out how to balance ourselves in this new paradigm," she added later in the interview.
OSF announced Schmitz's decision to step down as executive director, effective immediately, as part of OSF's restructuring to ensure that the artistic and business sides of the organization can be brought into further alignment with OSF's mission.
OSF is currently in the midst of a pause prior to the start of rehearsals for its 2023 season, which will feature "Rent," "Romeo & Juliet," and "Three Musketeers." Rehearsals begin in late February.
Garrett plans to continue to keep ticket prices low, as the festival did in 2022 with tickets starting around $35.
She also plans to continue to employ a personal security detail with a security presence for employees on the OSF campus.
"The strange thing about being threatened is, unless somebody comes up to you and retracts, you're sort of stuck with the feeling that it's an ongoing issue," Garrett said. "The other option is that they act on it, so to be safe, we will keep security for as long as we need it."
She continues to be in ongoing discussions regarding security with Ashland Police Chief Tighe O'Meara.
Garrett said she received a "nasty" message over the holidays from an OSF member, which read, "Go woke and Go broke."
During the same time frame, she experienced a lot of praise from local business owners locally who appreciated the holiday production of "It's Christmas, Carol!"
"My team fought me on producing 'It's Christmas, Carol!' because we really couldn't afford it," Garrett said.
"I made a commitment to this town … I opened this Christmas show as a holiday tradition," she added. "But also to make sure that there was a little oasis in the desert between the closing of the summer season and the opening of the next summer season."
Reach Ashland.news reporter Holly Dillemuth at hollyd@ashland.news.