A superb cast led by some OSF favorites and a script by a Pulitzer Prize winner deliver humor alongside uncomfortable insights
By Lee Juillerat for Ashland.news
"Circle Mirror Transformation," the new offering by the Rogue Theater Company, is a play that generates a range of emotions. It's a play that is at times humorous but it's also uncomfortably insightful.
Set in a small rehearsal space at a community center in Shirley, Vermont, the one-act play features five actors — four of them participants in a theater workshop acting class and their instructor. It's a mishmash of people participating, and often reluctantly and emotionally exposing themselves, in what seems a six-week group therapy session.
Things happen in "Mirror." What some have termed "emotional fault lines" are exposed as members of the group reveal their inner, often concealed, selves to the others and, more significant, to themselves.
Marty, the teacher, is married to one of the students, James. The other students are Theresa, a flirty former actress; Schultz, a recently divorced carpenter; and Lauren, a soon-to-be high school junior who wants to focus on learning about acting.
Written by Pulitzer Prize-winning playwright Annie Baker, the play intentionally involves a rather dysfunctional group of amateur actors. Except for Lauren, none seem seriously devoted to being actors. As the play develops — at Baker's intentionally slow pace with frequent pauses — the things that happen shape the play's narrative. One of those happenings takes place when the emotionally vulnerable Schultz is attracted to the flirtatious Theresa. He later learns she has a history of manipulative relationships with older men. When Theresa ends the relationship, Schultz is quietly but obviously devastated and bitter. As in much of the play, his emotions are exposed through silences and body language as unvoiced anger.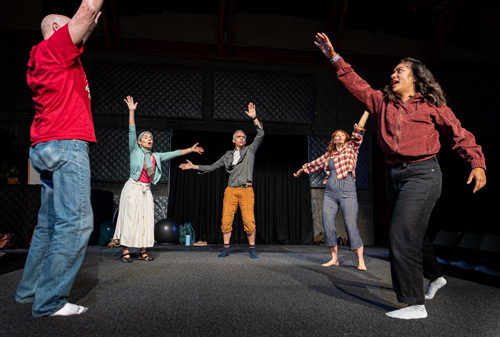 In her program notes, "Mirror" director Robynn Rodriguez explains the silences as intention. She regards the play as "a meditation on what it is to open oneself up to the challenge of trying something new.… Being present in our lives is exceedingly difficult. Students of theater spend years perfecting the art of being present, as they try to achieve one single moment of truth. What attracted me to ("Mirror") is its courageous silence."
"Circle Mirror Transformation" works because of its superb cast, including Oregon Shakespeare Festival veterans Vilma Silva as Marty and Jeffrey King as James, Gregory Linington as Schultz and Kjerstine Anderson as Theresa, along with Thilini Dissanayake, a recent Southern Oregon University graduate with a degree in theater performance, as Lauren. All five inhabit their characters.
Because the play is staged in a warehouse room with limited seating at Grizzly Peak Winery, the sparse set allows audiences to focus on the actors, on what they do and don't say. During a talkback after a performance, Rodriguez said a key to the play is "what is not being said." There are, she explained, different kinds of silences, including specific and wounded silences. Because of its intimate setting, audiences are attuned to what is and isn't being said.
"Mirror" moves quickly with 26 short scenes separated by fading or blackout lights. That, along with the nonverbal communication and minimalistic staging — means there are no special effects that might distract audiences from focusing on what is and is not said. Audiences are involved with the characters, some with dealing with evolving emotional struggles, others forging clumsily but positively ahead.
The play's staging and script are rich with careful detail. But it's the performances of its real-life actors that make "Mirror" interesting and provocative. "Circle Mirror Transformation" It's not a play that audiences will necessarily leave joyful — and that's intentional. "Circle Mirror Transformation" is a play to take home and think about.
Email freelance writer Lee Juillerat at 337lee337@charter.net.